Script : Rosalie Vaillancourt, Charles-Alex Durand, Sandrine Viger, Pierre-Yves Roy-Desmarais
Music : JS Houle, Mathieu Bouillon
Lyrics : Rosalie Vaillancourt, JS Houle, Mathieu Bouillon, Charles-Alex Durand
Choreography : Nicolas Michon
Producer : Marc S. Grenier
Rosalie Vaillancourt Scriptwriter/Actor
Rosalie was born in Saint-Hyacinthe (Québec). Her passion about theatre began at a very young age. After high school, she chose to attend the collegiate theater program despite offers of scholarships at several American universities. Eventually she ended up at the National School of humor.
After graduating, she was the star of the show New Girls, presented at Zoofest in 2015. The following year, she presented her very first solo show, entitled Rosalie Vaillancourt: La Comédie musicale. Critics are unanimous: it is the new revelation of humor. Her career then exploded on social media (followers - Facebook 141 000, Instagram 115 000, Youtube 108 000) thanks to her web series Rosalie, in which she offers tips on how to get rid of lovers. On television, we could see Rosalie Vaillancourt at CTRL, at Musiqueplus. She also plays a role in Family Councils at Télé-Québec, and in Le Nouveau Show at Radio-Canada. In 2018, Rosalie Vaillancourt was part of the program Les 5 Prochains at ARTV. The same year, she began to run her very first "one-woman-show", Enfant roi, everywhere in the province.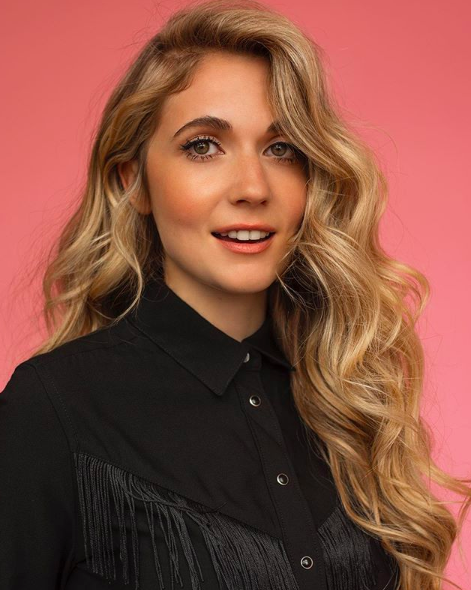 Click below for a sample of the original songs that were used during her show
Charles-Alex Durand Scriptwriter
Charles-Alex graduated from the humor writing program of the National School of humor in 2014. A prolific author, he takes part in many projects including LOL, Asks Rosalie, 14 mille millions de choses and On parle de sexe. Further, he writes for several comedians: Rosalie Vaillancourt, Julien Lacroix, Mathieu Pepper and the popular duo Les Grandes Crues composed of Marie-Lyne Joncas and Ève Côté. In 2017, he won best scenario at the Festival SPASM for the short film 8=D. In 2019, he was nominated multiple times at the Les Olivier gala and the Gémeaux awards gala.
Marc S. Grenier Producer
Marc is a producer and director. After having directed commercials for more than fifteen years and winning several international awards, Marc went on to direct and produce six feature films for the US and international market.
He produced documentaries and fiction series that have distinguished themselves in Canada and abroad, winning several Gémeaux Awards for: Achieving the Unachievable, Serial Frank and Les Lavigueur (CFTPA Indie Awards – Best Mini-Series). The latter two series were also adapted for broadcast in Greece and Spain. In 2011, he co-founded Baroque, where he produced the Mongol TV project, and many documentary series among others. He presently sits on several boards and is regularly invited to give conferences abroad. Marc has a wife and four daughters and disappears a few times a year to go fly fishing.
Olivier Adam Executive Producer
Son of filmmaker, Olivier Adam made his first appearance in cinema at the age of 3 years old. At age 12, he was assistant editor on a feature film having won numerous awards. And at 18, he wrote and directed his first docudrama on the international cooperation program Canada World Youth.
Olivier is a creative producer involved in all productions of Barøque. His background as a producer, scriptwriter, director and editor makes him an important asset for the company. In a previous life, he produced many music groups and commercials for advertising agencies looking for the video clip dynamic style. Screenwriter, director and producer on his first movie in 2010 he decided to focus on the creative aspect of production for cinema and television. Olivier has university degrees in Screenwriting, Creative Writing and Communications, a Baccalaureate in Arts (BA) and completed the Master's degree program in Multimedia. He is Grand jury and President of the juries for the Academy of Canadian Cinema & Television since 2012.
Nicolas Canuel Executive Producer
Born in Montréal, an actor's child, Nicolas Canuel grew in a theatrical environment and has never left the community. After obtaining a diploma in acting, he participated in more than 12 theater productions, more than 40 films and TV series, and performed in more than 18 outstanding roles.
Well known as a versatile actor, he stands out in the roles of the crazy priest of "Sur Le Well known as a versatile actor, Nicolas is executive producer on all Barøque productions including the documentary series: Shotgun Ménard, Les Récupérateurs, Taverne and Rapailler L'homme and was producer of the series Route 66.